European Bike Week in Corona time – Faaker See (Austria) in T-shirt? Despite the fact that Faaker See (Austria) has been on my to-do list for a number of years, I never was able to make time to go there. This year on the other hand I could free up more than enough time to enjoy a wonderful motorcycle holiday to Faaker See with my younger brother Jurgen.
Needless to say Jurgen and I were already preoccupied with anticipation long in advance. Everything is uncertain in Corona time, particularly planning a vacation. As we are we didn't intend to apply a strict travelling plan. When two guys go on a holiday by motorbike, one would say: saddle up and drive. Well, that needed quite some more doing than usual.
Jurgen decided to purchase another motorcycle a good week before departure. He needed it to be customized before making his first ride on it all the way to Austria.
Fortunately, I'm a Harley Davidson mechanic and have a complete workshop available. So I still had some major chores to perform before leaving: preparing Jurgen's Streetbob for our vacation.
With all luggage in place and after having kissed and hugged Mom and Dad we got on the road for a nice drive. Away from News, away from Corona and away from daily life. We drove into Germany like packed mules facing the sun. Crossing the border and off the highway. That was really the only plan we had. Avoiding highways, easy does it. Like a real holiday.
With no final navigation destination, we drove south, eating when hungry and pulling off when something nice caught our attention.
That was actually the basic rule we came up with for this holiday. Plan as little as possible. And we really liked that!
We found our first camping spot by following signs we saw along the road. Those little signs with a tent on it. It seemed like we were questing. Nice!
Next morning we had breakfast with an extra hot coffee because we were freezing! About 7 degrees Celsius outside temperature in dense foggy surroundings is not really comfortable. Actually we were reasonably prepared against the cold, but despite that it could have been a bit warmer. So you learn something every time.
Yet, we had one goal planned on our route to Faak am See: the 'Romantische Strasse' (the Romantic Road). A long route that was lined out just after the Second World War in order to attract more tourists to Germany. I had this route from a magazine. I downloaded a GPX file from the internet onto my phone and thus we enjoyed river valleys and forests as well as green meadows and snowy-white Alpine peaks. But perhaps most beautiful were perfectly preserved towns and villages such as Rothenburg ob der Tauber and Dinkelsbuhl; this is where you can still find medieval atmosphere. Highly recommended!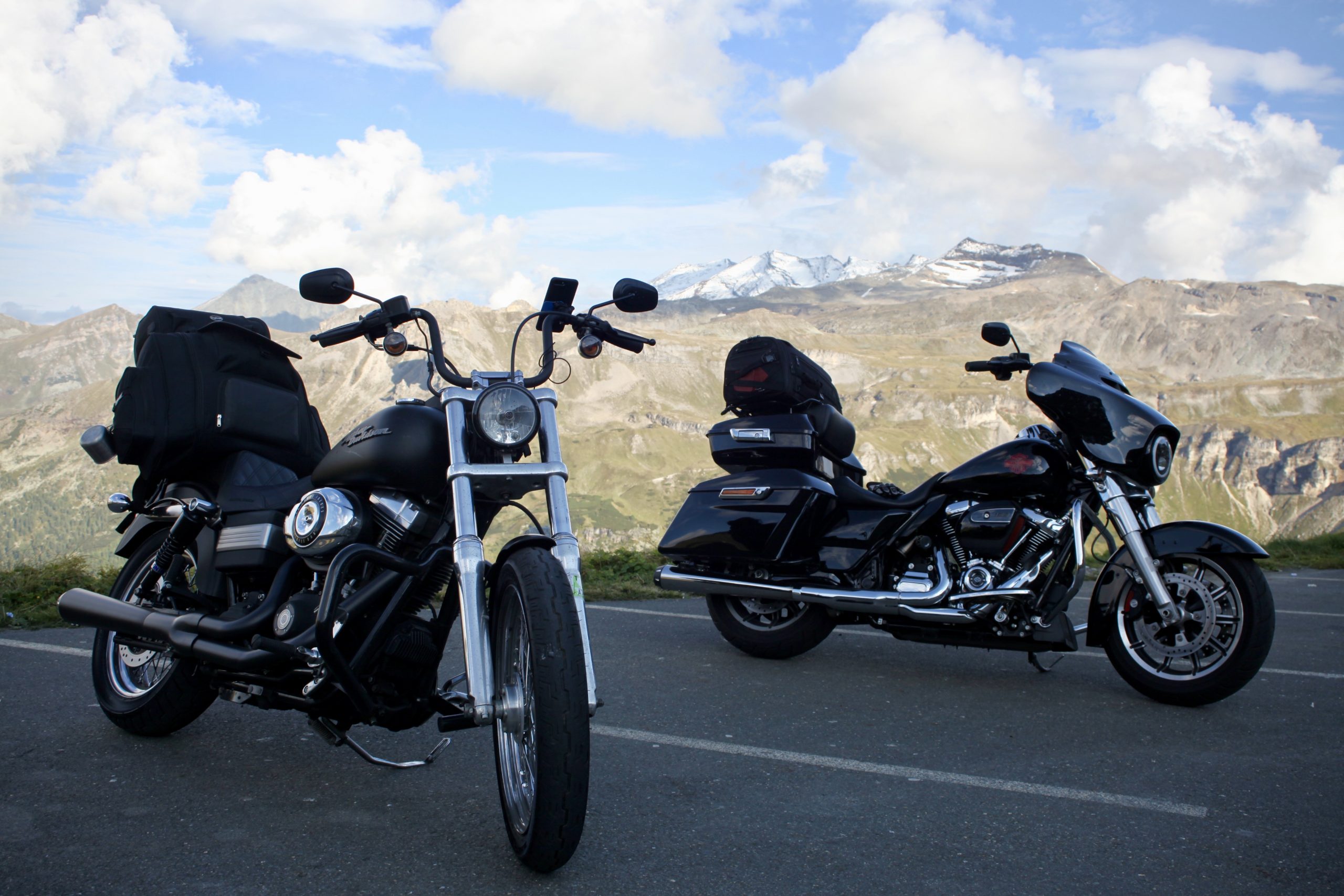 We drove the route in two days and on the second day we slowly started seeing the Alps approaching until we reached the end of the Romantic Road in Füssen at the foot of the German Alps. What a magical experience.
Crossing the Austrian border whilst breathing fresh mountain air, we drove to Innsbruck to relive some memories because Jurgen lived there for half a year as part of his studies.
Then we drove on to the Gerlos Pass where Jurgen and I, together with a herd of cows, were as good as the only living creatures enjoying the wonderful nature and the beautiful roads. Smiling from ear to ear we drove our Harleys to the Grossglockner and over it. With the evening sun still clearly in the sky, we stoutly took the most beautiful hairpin bends and we enjoyed amazing distant views and the roar of our Harleys.
So we drove to Faaker See. At first you encounter the big motorcycle statue, then two more roundabouts and you have arrived. So far this was our first impression of The European Bike Week. We had never been here before. We heard stories from other people about how incredibly busy it always is and about one-way traffic around the lake. That wasn't the case now. We were able to drive on to our campingsite Anderwald. No lines at the reception and a beautiful spot at the water side was available.
In the evening we got a nice table in the restaurant without having to wait, and ordered beer by the fire afterwards that was served instantly. My first impression of Faaker See in Corona time couldn't be better!
Our days at the campsite generally consisted of a good breakfast, a short drive, swimming and soaking up the warm sun. In the evening a nice bite to eat and then a few beers by the campfire, listening to live music and watching the crazy cowboy dance. Those are nice evenings. Frans (who had driven solo to Faak) and I had just a little too much beer one evening. A fantastic evening but the morning after I couldn't really enjoy breakfast.
As we had packed our camp and left Faaker See behind us and actually on the way back, the plan was to avoid the highways again. Not activating the mode 'avoid unpaved roads' in your navigation system is great fun. There we went on our way to Central Bavaria with now and then some stretches of forest path, mud puddles and stones but also ultimate peace. An absolute 'being on your own' surrounding.
We visited a friend on our second day of the way back, Ad. He stayed in a hotel with a cozy restaurant and good beds. That certainly was great comfort after being on a sleeping pad for a week and a half.
After a delicious meal and some alcoholic drinks, we still fancied a thick cigar and some rum. A habit that we more often like to end such a pleasant evening with.
I almost would have titled this holiday: Faak in T-shirt because until the last day we had 25 degrees Celsius with lots of sun. Unfortunately we were not able to keep it dry all the way. The last day from Winterberg back home it rained cats and dogs, so we drove home as quickly as possible and this time we did take the highway.
Jurgen and I had a wonderful holiday. Super fun to do as brothers as well. Times to always look back on with happiness.
Dennis Steenbeeke